Sur le site texan de Boca Chica de SpaceX, le prototype SN8 (Serial Number 8) de Starship est le premier du genre à être équipé de volets et d'une coiffe en forme de cône. Il dispose de trois moteurs Raptor et a déjà réussi quatre essais statiques.
Fondateur et patron de SpaceX, Elon Musk indique que SN8 devrait tenter la semaine prochaine un vol pour atteindre une altitude de 15 km. Il s'agira ainsi d'une performance d'un autre calibre que le vol ou bond de 150 mètres réalisé par le prototype SN6 en septembre dernier avec un seul moteur Raptor.
Pour le vol d'essai de la semaine prochaine, Elon Musk souligne des objectifs de tester la phase ascensionnelle avec les trois moteurs, les ailerons, la transition entre les réservoirs et bien évidemment le retour avec un atterrissage contrôlé.
Good Starship SN8 static fire! Aiming for first 15km / ~50k ft altitude flight next week. Goals are to test 3 engine ascent, body flaps, transition from main to header tanks & landing flip.

— Elon Musk (@elonmusk) November 24, 2020
Un premier vol d'essai orbital est pour le moment prévu vers la fin de l'année prochaine. Rappelons que la version finale de Starship sera équipée de six moteurs Raptor et pourra transporter une charge utile de plus de 100 tonnes sur orbite terrestre basse.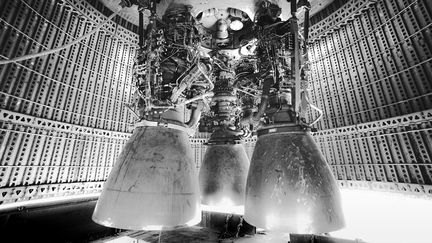 Starship devrait être en mesure d'accueillir jusqu'à 100 personnes et viser la Lune, la planète Mars ou d'autres destinations. Starship doit servir de deuxième étage d'un système de lanceur réutilisable propulsé par un premier étage Super Heavy équipé d'une trentaine de moteurs Raptor.
Une seizième mission Starlink
En attendant, c'est avec le moteur Merlin et une fusée Falcon 9 que SpaceX vient de lancer et déployer 60 nouveaux satellites pour sa constellation Starlink et service d'accès à Internet. Une 16e mission Starlink avec désormais 955 satellites qui ont été lancés.
À souligner que pour cette 16e mission Starlink, le premier étage de Falcon 9 a été récupéré à la suite d'un atterrissage sur une barge automatisée en mer. Il s'agissait du septième lancement et atterrissage pour ce même booster.
Have something to say? Leave a comment: