Roshi Bhadain a écrit au Directeur des poursuites publiques (DPP) dans le sillage de poursuites privées (Private Prosecution) qu'il compte intenter au Premier ministre, Pravind Jungauth, dans l'affaire Angus Road. Le leader du Reform Party a envoyé une correspondance en ce sens au DPP, Me Satyajit Boolell, dans l'après-midi de ce lundi 30 novembre. 
Dans sa correspondance au DPP, Roshi Bhadain fait un rappel de sa version des faits sur l'affaire Angus Road et d'une déclaration du bureau du DPP. Selon Roshi Bhadain, le DPP a indiqué qu'aucun dossier sur l'affaire Angus Road ne lui avait été remis.
Lors d'une conférence de presse, samedi 28 novembre, Roshi Bhadain avait lancé un ultimatum à Pravind Jugnauth pour qu'il soumette sa démission comme Premier ministre du pays d'ici ce lundi. Il avait aussi déclaré qu'il intenterait des poursuites en privé si Pravind Jugnauth ne démissionnait pas.
Roshi Bhadain a également rappelé que l'Independent Commission against Corruption (Icac) avait pris presque une décennie pour enquêter selon les articles 46 et 47 de la Prevention of corruption act (Poca) et que jamais le dossier n'a atterri au bureau du DPP.
Roshi Bhadain affirme qu'à la lumière de la déclaration de Pravind Jugnauth lors de sa conférence de presse vendredi dernier (27 novembre), il a été « confirmé que différentes infractions criminelles ont été commises sous le code pénal, la Financial Intelligence and Anti-Money Laundering Act (Fiamla) et la Poca » dans cette affaire.
Roshi Bhadain demande ainsi l'approbation du DPP pour cette « private prosecution ». Il requiert du DPP tous les dossiers de l'Icac sur l'affaire Angus Road.
Le leader du Reform Party a aussi sollicité un rendez-vous au DPP afin qu'il puisse décider de la marche à suivre légale pour son procès contre Pravind Jugnauth.
Ci-dessous un extrait de la correspondance qu'il a adressée au DPP :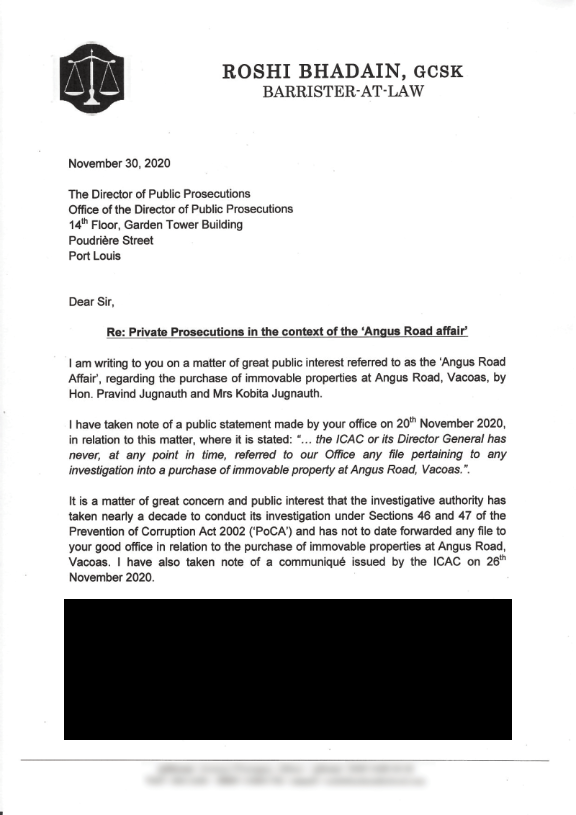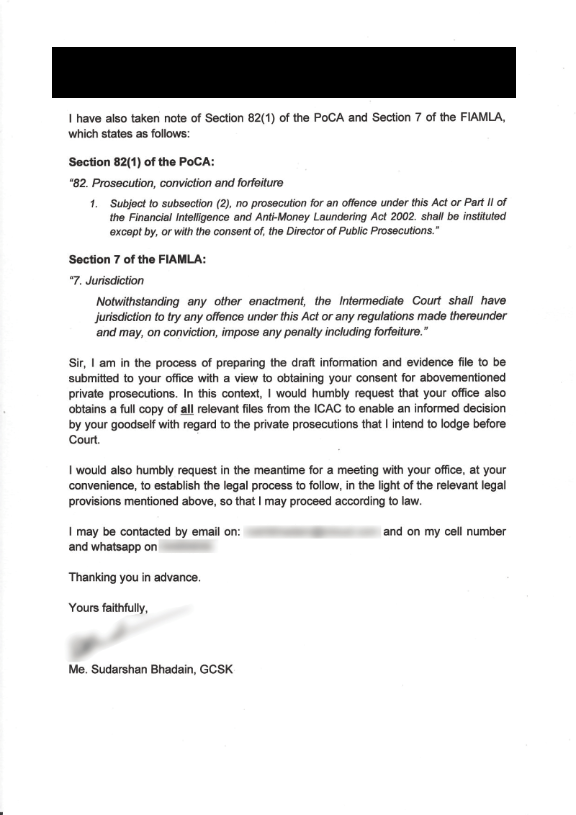 Have something to say? Leave a comment: