[VIDÉO] Rencontre PM / Invest Africa à Londres

 |  Posted by

Dasa Appalasawmy

 |  0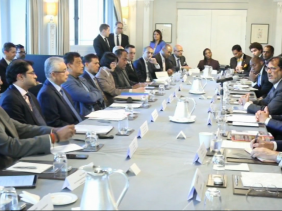 En vue de la tenue du UK-Africa Investment Sumit, qui se tiendra le lundi 20 janvier à Londres, le Premier ministre, Pravind Jugnauth, a participé, ce vendredi 17 janvier, à une rencontre avec Invest Africa. Cette platforme, d'investissement et des affaires, de grande renommée en Afrique, a réuni plus d'une quarantaine de participants de haut profile.
La délégation mauricienne dirigée par le Premier ministre, Pravind Jugnauth, a ainsi profiter de l'occasion pour encourager les investisseurs africains à venir investir à Maurice.
Lors de son intervention, le Premier ministre, Pravind Jugnauth a fait ressortir que l'économie mauricienne est très diversifiée et offre des opportunités d'investissement dans plusieurs secteurs. Il a aussi rappelé que Maurice est en train de se positionner comme un business hub à Maurice.
« Our vision now is to consolidate our country as a platform for investment in Africa as the continent continues its ascent as a land of opportunities and of tremendous possibilities for international entrepreneurs and investors", a-t-il dit.
Il a aussi rappelé que, selon le dernier classement de la Banque Mondiale en matière de Ease of doing business, Maurice se positionne à la 13 ème place sur l'échiquier mondial et première en Afrique.
A noter, que le CEO par intérim de l'Economic Development Board (EDB), Ken Poonoosamy a également assisté à la rencontre.
Parmi les intervenants, on note la participation du mauricien Iqbal Rajabally du Cabinet BIC Robert.
Have something to say? Leave a comment: