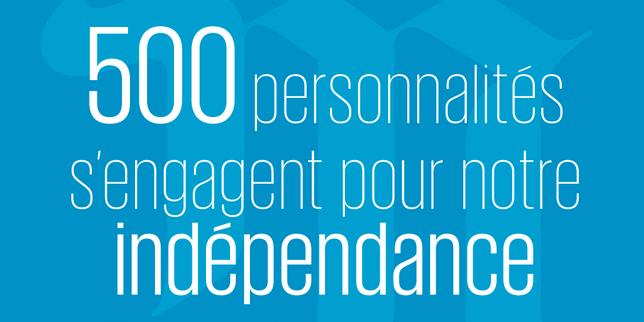 Publié aujourd'hui à 15h47, mis à jour à 16h17
TribunePublic figures ask "Le Monde"'s owners to guarantee editorial independance by granting a right of approval for new controlling shareholders.
We, readers of Le Monde, Télérama, Courrier International or La Vie; citizens concerned about the freedom of the press in France, support the editors and staff of Le Monde Group in their efforts to defend an inalienable value: the independence of Le Monde newspaper.
Though we may not always agree with Le Monde, we pledge our support for its independence, especially at this potential turning point in its history, as industrialists are coveting and seeking to bring influence to bear on the press in general, jeopardizing the model of editorial freedom and economic development exemplified by the Le Monde Group in particular. This model is based on the shareholders' agreement concluded in 2010 between the new shareholders Pierre Bergé, Xavier Niel, Matthieu Pigasse, on the one hand, and the staff of Le Monde, on the other, who then approved their acquisition of a stake in the newspaper.
Because it serves to safeguard the spirit of this agreement, the establishment of a right of approval with regard to any new shareholders is an indispensable part of this model: it will enable the Pôle d'Indépendance of the Le Monde Group, an entity made up of Le Monde's journalists and other staff, readers and founders, to decide in future whether to allow any new shareholder to acquire a significant interest in Le Monde. In an age in which even facts are contested, the freedom and independence of the press are public goods that are more precious than ever.
(translated by Eric Rosencrantz)
More than 500 signatures
Dominique A (singer) ·
Philippe Aghion (professor at Collège de France) ·
Sophia Aram (humorist) ·
Yann Arthus-Bertrand (photograph et director) ·
Kader Attia (plasticien) ·
Paul Auster (writer) ·
Elisabeth Badinter (philosopher) ·
Robert Badinter (lawyer) ·
Russell Banks (writer) ·
Françoise Barré-Sinoussi (virologist Nobel Prize of physiology and medicine 2008) ·
Jane Birkin (singer) ·
Christian Boltanski (plastician) ·
Patrick Boucheron (professor au Collège de France) ·
William Boyd (writer) ·
Sophie Calle (artist) ·
Emmanuel Carrère (writer) ·
Barbara Cassin (philosopher) ·
Christine and the Queens (singer) ·
Kamel Daoud (writer) ·
Luc Dardenne (film-maker) ·
Jean-Pierre Dardenne (film-maker) ·
Raymond Depardon (photograph et director) ·
Arnaud Desplechin (film-maker) ·
Manu Dibango (musician) ·
Annie Ernaux (writer) ·
Marcel Gauchet (historian) ·
Serge Haroche (physician Nobel Prize of physics 2012) ·
Axel Honneth (sociologue allemand) ·
Nicolas Hulot (président d'honneur de la Fondation Nicolas Hulot) ·
Isabelle Huppert (comedian) ·
Nancy Huston (writer) ·
Elias Khoury (writer) ·
Naomi Klein (essayiste) ·
Rem Koolhaas (architect) ·
Bruno Latour (philosopher) ·
Vincent Lindon (comedian) ·
Jonathan Littell (writer) ·
Ken Loach (film-maker) ·
Annette Messager (artist plasticienne) ·
Ariane Mnouchkine (head of du Théâtre du Soleil) ·
Edgar Morin (sociologue) ·
Cees Nooteboom (writer) ·
Mona Ozouf (historian) ·
Michelle Perrot (historian) ·
Renzo Piano (architect) ·
Thomas Piketty (economist) ·
Denis Podalydès (comedian et producer) ·
Olivier Py (auteur head of du Festival d'Avignon) ·
Matthieu Ricard (moine bouddhiste) ·
Catherine Ringer (singer) ·
Pierre Rosanvallon (professor au Collège de France) ·
Salman Rushdie (writer) ·
Edward Snowden (lanceur d'alerte) ·
Timothy Snyder (professor à l'université Yale) ·
Lilian Thuram (fondation Lilian Thuram-Éducation contre le racisme) ·
Lech Walesa (Prix Nobel de la paix) ·
Roschdy Zem (comedian) ·
Michel Agier (anthropologue) ·
Samir Ait (economist syrien) ·
Wadih Al-Asmar (président d'Euromed Rights) ·
Hippolyte d'Albis (economist) ·
Cécile Alduy (sémiologue) ·
Vassilis Alexakis (writer) ·
Charline
Ahmet Altan (journaliste et writer) ·
Mehmet Altan (journaliste et writer) ·
Daniel Andler (philosopher) ·
Christophe André (psychiatre) ·
Etienne Anheim (historian) ·
Keren Ann (singer) ·
Philippe Aractingi (film-maker libanais) ·
Pierre Arditi (comedian) ·
Ariane Ascaride (comedian) ·
Olivier Assayas (film-maker) ·
Jacques Attali (essayiste) ·
Stéphane Audeguy (writer) ·
Serge Audier (philosopher) ·
Souleymane Bachir Diagne (philosopher) ·
Bertrand Badie (politiste) ·
Antoine de Baecque (historian) ·
Pénélope Bagieu (illustrator) ·
Joseph Bahout (politiste à la Fondation Carnegie) ·
Mohamed Bajrafil (théologien) ·
Josiane Balasko (comedian) ·
Etienne Balibar (philosopher) ·
Eric Baratay (historian) ·
Romain Bardet (cycliste) ·
Neil Barsky (fondateur du Marshall Project) ·
Jean-Pierre Bat (historian) ·
Christian Baudelot (sociologue) ·
Vincent Baudriller (head of du théâtre Vidy-Lausanne) ·
Laurent Bayle, head of (général de la Cité de la musique, président de la Philharmonie) ·
Emmanuelle Béart (comedian) ·
Stéphane Beaud (sociologue) ·
Olivier Beaud (juriste) ·
Alex Beaupain (compositeur) ·
Georges-Henri Beauthier (lawyer) ·
Tahar Ben Jelloun (writer) ·
Agnès Bénassy-Quéré (economist) ·
Saïd Bensaid (producteur) ·
Rachid Benzine (islamologue) ·
Charles Berling (comedian) ·
Laurent Bigorgne (head of général de l'institut Montaigne) ·
Juliette Binoche (comedian) ·
Benjamin Biolay (singer) ·
Pierre Birnbaum (sociologue) ·
Karim-Emile Bitar (politiste à l'université Saint-Joseph de Beyrouth) ·
Jean Blaise (head of artistique) ·
Bernard Blistène (head of du Musée national d'art moderne) ·
Loïc Blondiaux (politiste) ·
Blutch (auteur de bandes-dessinées) ·
David Bobée (producer) ·
Gilles Boeuf (biologiste) ·
Dermot Bolger (writer) ·
Pascal Boniface (head of de l'IRIS) ·
Jacques Bonnaffé (comedian) ·
Patrick Bouchain (architect) ·
Grégoire Bouillier (writer) ·
Nina Bouraoui (writer) ·
William Bourdon (lawyer) ·
Dominique Bourg (philosopher) ·
Charline Bourgeois-Tacquet (director) ·
Antoine Bozio (economist) ·
Rachida Brakni (comedian) ·
Rony Brauman (médecin) ·
Christina von Braun (professor à l'université Humboldt de Berlin) ·
Stéphane Braunschweig (director of Odéon-Théâtre de l'Europe) ·
Jean-François Braunstein (philosopher) ·
Emile Bravo (cartoonist) ·
Vincent Brengarth (lawyer) ·
Gérald Bronner (sociologue) ·
Peter Brook (producer) ·
Pascal Bruckner (writer) ·
Fabienne Brugère (philosopher) ·
Philippe De Bruycker (professor à l'université libre de Bruxelles) ·
Florence Burgat (philosopher) ·
Dominique Cabrera (film-maker) ·
Julia Cagé (economist) ·
Thomas Cailley (scriptwriter) ·
Camille (singer) ·
Jean-Yves Camus (politiste) ·
Monique Canto-Sperber (philosopher) ·
Romeo Castellucci (producer) ·
Roland Castro (architect) ·
Philippe Caubère (comedian) ·
Bruno Cautrès (politiste) ·
Alain Cavalier (film-maker) ·
Javier Cercas (writer) ·
Bernard Cerquiglini (linguiste) ·
Gilbert Cette (economist) ·
Jacqueline Chabbi (historian) ·
Christophe Charle (historian) ·
Boris Charmatz (chorégraphe) ·
Roger Chartier (professor au Collège de France) ·
Jeanne Cherhal (singer) ·
Hélène Cixous (writer) ·
Clément Cogitore (film-maker) ·
Elie Cohen (economist) ·
Marie Collin (head of artistique du Festival d'automne) ·
Bernard Comment (writer) ·
Jean-Louis Comolli (film-maker) ·
Antoine Compagnon (professor au Collège de France) ·
Alain Connes (mathématicien, médaille Fields) ·
Yves Coppens (paléontologue) ·
Catherine Corsini (film-maker) ·
Michel Crépu (writer et critique) ·
Didier Daeninckx (writer) ·
Robert Darnton (professor à Harvard) ·
Marie Darrieussecq (writer) ·
Nicolas de Crécy (auteur de bandes-dessinées) ·
Elisabeth de Fontenay (philosopher philosopher) ·
Patrick Declerck (writer) ·
Philippe Decouflé (chorégraphe) ·
Geneviève Delaisi de Parseval (psychanalyste) ·
Nicolas Delalande (historian) ·
Jean-Marie Delarue (président de la Commission nationale consultative des droits de l'homme) ·
Vincent Delerm (singer) ·
Emilie Deleuze (film-maker) ·
Jean-François Delfraissy (immunologiste) ·
Mireille Delmas-Marty (professor au Collège de France) ·
Christophe Deltombe (président de la Cimade) ·
Pascal Delwit (professor à l'université libre de Bruxelles) ·
Chris Dercon (head of de la RMN-Grand Palais) ·
Jérôme Deschamps (producer) ·
Philippe Descola (professor au Collège de France) ·
Marie Desplechin (writer) ·
Vinciane Despret (philosopher) ·
Vikash Dhorasoo (footballeur) ·
Fatou Diome (writer) ·
Cyril Dion (premier head of du mouvement Colibris) ·
Pape Diouf (ex-président de l'Olympique de Marseille) ·
Philippe Djian (writer) ·
Catherine Dolto (médecin) ·
Hervé Drévillon (historian) ·
François Dubet (sociologue) ·
Esther Duflo (economist) ·
Marc Dugain (writer et film-maker) ·
Olivier Duhamel (constitutionnaliste) ·
Bruno Dumont (film-maker) ·
Marie Duru-Bellat (sociologue) ·
Dominique Eddé (writer libanaise) ·
Alaa El Aswany (writer) ·
Michel Eltchaninoff (philosopher) ·
Carolin Emcke (writer) ·
Mathias Enard (writer) ·
Henrik Enderlein (economist) ·
Arlette Farge (historian) ·
Didier Fassin (sociologue) ·
Eric Fassin (sociologue) ·
François-Xavier Fauvelle (professor au Collège de France) ·
Mona Fawaz (professor à l'université américaine de Beyrouth) ·
Luiz Felipe de Alencastro (historian) ·
Fellag (comedian) ·
Pascale Ferran (film-maker) ·
Jérôme Ferrari (writer) ·
Stéphane Fière (writer) ·
Aurélie Filippetti (ancienne ministre de la Culture) ·
Jean-Pierre Filiu (historian) ·
Gilles Finchelstein (head of général de la Fondation Jean-Jaurès) ·
Israël Finkelstein (head of de l'institut d'archéologie de l'université de Tel Aviv) ·
Lydia Flem (writer) ·
Cynthia Fleury (philosopher) ·
Michael Foessel (philosopher) ·
Benoît Fontaine (biologiste de la conservation) ·
Philippe Forest (writer) ·
Martial Foucault (head of du Cevipof) ·
Irène Frachon (pneumologue) ·
Geneviève Fraisse (philosopher) ·
Étienne François (historian) ·
Thierry Frémaux (délégué général du festival de Cannes) ·
Denis Freyd (producteur) ·
Jean-Gabriel Ganascia (informaticien) ·
Anne-Marie Garat (writer) ·
Nicole Garcia (comedian et film-maker) ·
Thierry Garrel (producteur documentariste) ·
Costa Gavras (président de la Cinémathèque française) ·
Julie Gayet (comedian) ·
François Gedigier (chef-monteur) ·
Etienne Ghys (mathématicien) ·
Béatrice Giblin (head of de la revue Hérodote) ·
Brigitte Giraud (writer) ·
Fabrice Gobert (scriptwriter et director) ·
Maurice Godelier (anthropologue) ·
Thomas Gomart (head of de l'IFRI) ·
José-Manuel Gonçalvès (head of du Centquatre) ·
Julien Gosselinmetteur (producer) ·
Romain Goupil (film-maker) ·
Pierre-Olivier Gourinchas (economist) ·
Robert Guédiguian (film-maker) ·
Cécile Guilbert (writer) ·
Jean-Claude Guillebaud (essayiste) ·
Nedim Gursel (writer) ·
Kadri Gürsel (Turkish journaliste, former political prisoner) ·
Guy Haarscher (emeritus professor at Brussels university) ·
Joana Hadjithomas (artist) ·
Hervé Hadmar (director) ·
Yannick Haenel (writer) ·
Peter Harling (head of du Centre d'analyse Synaps à Beyrouth) ·
Milton Hatoum (writer) ·
Anne-Lise Heimburger (comedian) ·
Nathalie Heinich (sociologue) ·
Jacques Henric (writer) ·
Pierre Henry (head of général de France Terre d'asile) ·
François Heran (professor au Collège de France) ·
Fanny Herrero (scriptwriter) ·
Michele Hirsch (lawyer) ·
Siri Hustvedt (writer) ·
Eva Illouz (sociologue) ·
Ahmet Insel (professor émérite à l'université de Galatasaray) ·
Ivan Jablonka (historian) ·
Alain Jakubowicz (lawyer) ·
Agnès Jaoui (comedian) ·
Régis Jauffret (writer) ·
Nicole Jeammet (psychologue) ·
Philippe Jeammet (psychiatre) ·
Jean-Noël Jeanneney (historian) ·
Alexis Jenni (writer) ·
Yves Jeuland (director) ·
Ma Jian (writer) ·
Laurent Joly (historian) ·
Serge Joncour (writer) ·
Khalil Joreige (artist) ·
Paul Jorion (anthropologue et economist) ·
Jean Jouzel (glaciologue) ·
Claire Judde de Larivière (historian) ·
Hedi Kaddour (writer) ·
Stéphanie Kalfon (writer) ·
Denis Kambouchner (philosopher) ·
Jean-Claude Kaufmann (sociologue) ·
Maylis de Kerangal (writer) ·
Angélique Kidjo (singer) ·
Laura Kipnis (professor à la Northwestern University) ·
Etienne Klein (physicien) ·
Gaspard Kœnig (philosopher) ·
Christoph König (philologue à l'université d'Osnabrück) ·
Andreï Kourkov (writer) ·
Pascale Kramer (writer) ·
Ivan Krastev (géopolitiste) ·
Andreas Krieg (professor au King's College de Londres) ·
Julia Kristeva (linguiste) ·
Frédéric Krivine (scriptwriter) ·
Nathalie Kuperman (writer) ·
Jolanta Kurska (présidente de la Fondation Bronislaw Geremek) ·
Denis Lacorne (historian) ·
Yves Lacoste (géographe, fondateur de la revue Hérodote) ·
Laurence Lacour (auteure et éditrice) ·
Dany Laferrière (writer membre de l'Académie française) ·
Yanick Lahens (writer) ·
Bernard Lahire (sociologue) ·
Michel Lallement (sociologue) ·
Michèle Lamont (professor à Harvard) ·
Asma Lamrabet (essayiste) ·
Anne Landois (scriptwriter) ·
Henry Laurens (professor au Collège de France) ·
Camille Laurens (writer) ·
Thomas Lauriot dit Prévost (cohead of du Théâtre du Châtelet) ·
Gaëlle Lauriot-Prévost (architect) ·
Georges Lavaudant (producer) ·
Bernard Lavilliers (singer) ·
Marc Lazar (historian) ·
Yvan Le Bolloch (comedian) ·
Hervé Le Bras (démographe) ·
David Le Breton (anthropologue) ·
Jean-Pierre Le Goff (philosopher) ·
Henri Leclerc (lawyer) ·
Renaud Legrand (costumier) ·
Pierre Lemaître (writer) ·
Claude Lemand (galeriste) ·
Frédéric Lenoir (philosopher) ·
Pierre Léon (film-maker) ·
Vladimir Léon (film-maker) ·
Jean-François Leroy (head of de Visa pour l'image) ·
David Lescot (producer) ·
Pierre Lescure (président du Festival de Cannes) ·
Jean-Xavier de Lestrade (director, oscar du meilleur film documentaire en 2002) ·
Bernard-Henri Lévy (philosopher) ·
Mark Lilla (professor à l'université Columbia) ·
Antoine Lilti (historian) ·
Sylvie Lindeperg (historian) ·
Stéphane Lissner (head of général de l'Opéra de Paris) ·
Robert Littell (writer) ·
Manon Loizeau (director) ·
Carlos Lopes (economist) ·
Joëlle Losfeld (éditrice) ·
Edouard Louis (writer) ·
Emmanuelle Loyer (historian) ·
Michel Lussault (géographe) ·
Alain Mabanckou (writer) ·
Vincent Macaigne (comedian et producer) ·
John R. MacArthur (président de Harper's Magazine Magazine) ·
Ruth Mackenzie (cohead of du Théâtre du Châtelet) ·
Frank Madlener (président de l'IRCAM) ·
Jamal Mahjoub (writer) ·
Aïssa Maïga (actress) ·
Charif Majdalani (writer) ·
Macha Makeïeff (head of du théâtre de la Criée) ·
Marie-José Malis (metteuse en scène) ·
Pierre Manent (philosopher) ·
Jean-Paul Manganaro (writer) ·
Olivier Mantei (head of de l'Opéra Comique et des Bouffes du Nord) ·
Jean-Luc Marion (philosopher membre de l'Académie Française) ·
Tonie Marshall (director) ·
Marie Masmonteil (productrice) ·
Nicolas Mathieu (writer) ·
Pierre Mathiot (head of de Sciences po Lille) ·
Daniel Maximin (writer) ·
Guillaume Mazeau (historian) ·
Patricia Mazuy (film-maker) ·
Achille Mbembe (philosopher) ·
Lisa McInerney (writer) ·
Caroline Mécary (lawyer) ·
Dominique Méda (sociologue) ·
Philippe Meirieu (pédagogue) ·
Pierre-Michel Menger (professor au Collège de France) ·
Agnès Merlet (film-maker) ·
Vincent Message (writer) ·
Arnaud Meunier (head of comédie de Saint-Etienne) ·
Yves Michaud (philosopher) ·
Adam Michnik (fondateur du journal polonais Gazeta Wyborcza) ·
Radu Mihaileanu (film-maker) ·
Catherine Millet (writer) ·
Oury Milshtein (comedian) ·
Frédéric Mion (head of général de Sciences po) ·
Christophe Miossec (singer) ·
Dror Mishani (writer) ·
Tarek Mitri (head of de l'Institut Issam Fares de l'université américaine de Beyrouth) ·
Kamel Mohanna (head of de l'ONG libanaise Amel) ·
Dominique Moll (film-maker) ·
Claude Mollard (photograph plasticien) ·
Thierry de Montbrial (président de l'IFRI) ·
Gérard Mordillat (romancier film-maker) ·
François Morel (comedian) ·
Richard Morgiève (writer) ·
Baptiste Morizot (philosopher) ·
Marie-Rose Moro (pédopsychiatre) ·
Glenn W. Most (professor à la Scuola Normale de Pise) ·
Wajdi Mouawad (head of du Théâtre de la Colline) ·
Yascha Mounk (professor à l'université Johns Hopkins) ·
Scholastique Mukasonga (writer) ·
Laure Murat (professor à l'université de Los Angeles) ·
Lionel Naccache (neurologue et neuroscientifique) ·
Charbel Nahas (economist libanais) ·
Olivier Nakache (film-maker) ·
Tobie Nathan (ethnopsychiatre) ·
Pap Ndiaye (historian) ·
Susan Neiman (head of de l'Einstein Forum) ·
Stan Neuman (director) ·
Christophe Nick (producteur et director) ·
Gérard Noiriel (historian) ·
Pierre Nora (historian) ·
Stanislas Nordey (head of du Théâtre national de Strasbourg) ·
Claudine Nougaret (film-maker) ·
Jean Nouvel (architect) ·
Kako Nubukpo (economist) ·
Nicolas Offenstadt (historian) ·
Maurice Olender (historian) ·
Jean Ollé-Laprune (historian du cinéma) ·
Maya Ombasic (writer) ·
Erik Orsenna (writer membre de l'Académie française) ·
Pascal Ory (historian) ·
Carlo Ossola (professor au Collège de France) ·
Jean-Michel Othoniel (artist) ·
Lioudmila Oulitskaïa (writer) ·
Rithy Panh (film-maker) ·
Thierry Pech (head of général de Terra Nova) ·
Corine Pelluchon (philosopher) ·
Daniel Pennac (writer) ·
Dominique Perrault (architect) ·
Gilles Perret (director) ·
Pascal Perrineau (politiste) ·
Thomas Philippon (economist) ·
Thomas Pierret (sociologue) ·
Jean-Philippe Pierron (philosopher) ·
Ernest Pignon-Ernest (plasticien) ·
Jean Pisani-Ferry (economist) ·
Bernard Pivot (writer) ·
Bruno Podalydès (film-maker) ·
Joël Pommerat (producer) ·
Christian de Portzamparc (architect) ·
Christophe Prochasson (président de l'Ecole des hautes études en sciences sociales) ·
Sabine Prokhoris (philosopher) ·
Antoine Prost (historian) ·
Bernadette Puijalon (anthropologue) ·
Yann Quéffelec (writer) ·
Josep Ramoneda (philosopher) ·
Ron Rash (writer) ·
Milo Rau (head of du théâtre de Gand) ·
Thomas Renard (chercheur senior à l'institut Egmont) ·
Jacques Revel (historian) ·
Thomas B. Reverdy (writer) ·
Dominique Reynié (politiste) ·
Jean-Michel Ribes (head of du théâtre du Rond-Point) ·
Michèle Richman (professor à l'université de Pennsylvanie) ·
Michelle Riot-Sarcey (historian) ·
Marie-Monique Robin (director et writer) ·
Olivier Rolin (writer) ·
François Rollin (comedian) ·
Thomas Römer (professor au Collège de France) ·
Paul Rondin (head of délégué du Festival d'Avignon) ·
Jean-Pierre Rosenczveig (magistrat) ·
Elisabeth Roudinesco (historian) ·
Dominique Rousseau (constitutionnaliste) ·
Olivier Roy (politiste) ·
Eric Ruf (administrateur général de la Comédie française) ·
Jean-Christophe Rufin (writer membre de l'Académie française) ·
Christophe Ruggia (film-maker) ·
Vladimir Safatle (philosopher) ·
Nizar Saghieh (head of de l'ONG Legal Agenda) ·
François Saint-Pierre (lawyer) ·
Danièle Sallenave (writer member de l'Académie française) ·
Lydie Salvayre (writer) ·
Moises Saman (photograph, membre de l'agence Magnum) ·
Boualem Sansal (writer) ·
Felwine Sarr (economist) ·
Jean-Marc Sauvé (vice-président honoraire du Conseil d'Etat) ·
Jean-Louis Schlegel (essayiste) ·
Céline Sciamma (film-maker) ·
Claudia Sénik (economist) ·
Leïla Shahid (former ambassador of Palestine in Europe) ·
Yves Simon (singer et writer) ·
Leïla Slimani (writer) ·
Guy Sorman (essayiste) ·
Joy Sorman (writer) ·
Isabelle Stengers (philosopher) ·
Jean-François Stévenin (comedian) ·
Benjamin Stora (historian) ·
Wolfgang Streeck (head of émérite de l'Institut Max-Planck) ·
Sanjay Subrahmanyam (professor at Collège de France) ·
Alain Supiot (professor honoraire at Collège de France) ·
Pierre-André Taguieff (historian) ·
Abdellah Taïa (writer) ·
Alain Tasma (director) ·
Bertrand Tavernier (film-maker) ·
Janne Teller (writer) ·
Mario Telo (professor à la LUIISS de Rome et à l'université libre de Bruxelles) ·
Jacques Testard (biologiste) ·
Sylvie Testud (comedian) ·
Valérie Theis (historian) ·
Irène Théry (sociologue) ·
Marie-Jo Thiel (théologienne) ·
Franck Thilliez (writer) ·
Frédéric Thiriez (lawyer) ·
Henri Thulliez (lawyer) ·
Serge Tisseron (psychiatre) ·
Eric Toledano (film-maker) ·
Camille de Toledo (writer) ·
Marina Tomé (actress) ·
Philippe Torreton (comedian) ·
Lewis Trondheim (auteur de bandes-dessinées) ·
Lyonel Trouillot (writer) ·
Nayla Tueni (head of de la rédaction du quotidien libanais An-Nahar) ·
Cécile Van de Velde (professor à l'université de Montréal) ·
Jean-Jacques Vanier (comedian) ·
Caetano Veloso (musician brésilien) ·
Jean-Robert Viallet (director) ·
Delphine de Vigan (writer) ·
Georges Vigarello (historian) ·
Marc Villemain (writer) ·
Jean-Pierre Vincent (producer) ·
Eduardo Viveiros de Castro (anthropologist) ·
Bastien Vivès (cartoonist) ·
Eric Vuillard (writer) ·
Abdourahman Waberi (writer) ·
Patrick Wachsmann (juriste) ·
Jean-Michel De Waele (professor à l'université libre de Bruxelles) ·
Michael Walzer (emeritus professor at Princeton University) ·
Patrick Weil (historian) ·
Annette Wieviorka (historian) ·
Michel Wieviorka (sociologue) ·
Olivier Wieviorka (historian) ·
André Wilms (comedian) ·
Lambert Wilson (comedian) ·
Martin Winckler (médecin et writer) ·
Michel Winock (historian) ·
Pedro Winter (musician) ·
Frederick Wiseman (film-maker) ·
Ben Wizner (Edward Snowden lawyer) ·
Frédéric Worms (philosopher) ·
Valérie Zenatti (writer) ·
Rebecca Zlotowski (film-maker) ·
Gabriel Zucman (economist) ·
Have something to say? Leave a comment: