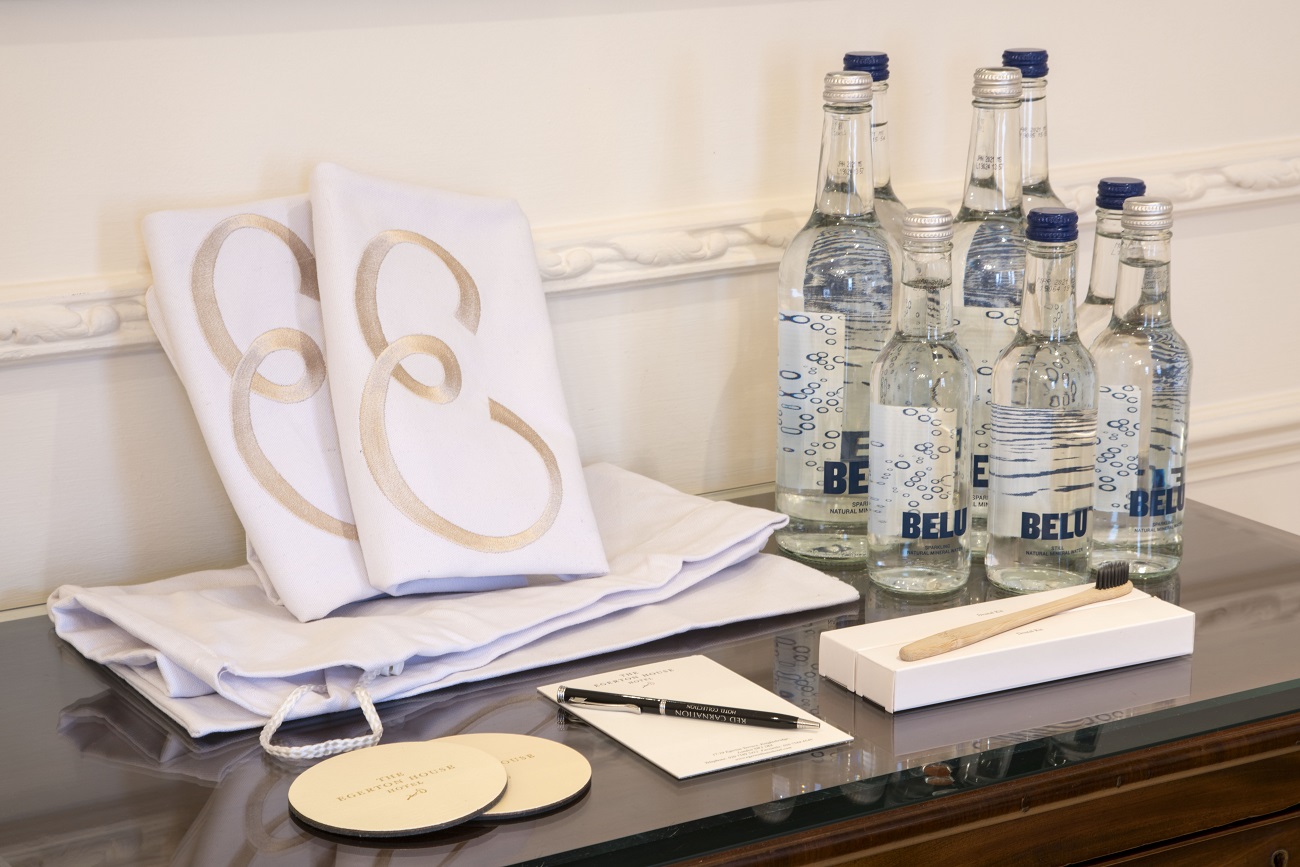 Luxury hotel collection Red Carnation Hotels has completely eliminated 15 commonly used Single Use Plastic (SUP) items from its hotel operations across the world.
This month, the family-owned collection achieved its goal of eliminating 15 commonly used SUPs from all 17 four- and five-star properties in the collection. This is part of a wider goal set by Red Carnation's parent company The Travel Corporation (TTC), and its not-for-profit The TreadRight Foundation, to eradicate all SUPs from operations across all its travel brands by 2022.
Here are the 15 SUPs abolished from Red Carnation Hotels, and examples of sustainable alternatives implemented at the properties:
1. Drinking straws
Plastic straws were one of the first SUP items to be eliminated across all RCH operations back in January 2018. Compostable paper straws or metal alternatives are now in operation across all hotels in the collection. Guests dining at bbar, a Red Carnation bar and restaurant in London's Victoria can sip their cocktails and beverages through 100% biodegradable pasta straws.
2. Cocktail stirrers
From one of London's best martinis at The Egerton House Hotel in Knightsbridge to molecular cocktails at The Chesterfield Mayfair, Red Carnation bars are renowned for their creative concoctions – in-house mixologists are now preparing cocktails with reusable cocktail stirrers made from glass, metal, stainless steel and bamboo.
3. Takeaway coffee cups and lids
Red Carnation Hotel branded takeaway coffee cups are plastic free and fully compostable, with coffee lids made from fermented corn starch.
4. Plastic water bottles
Plastic water bottles are no longer available in any Red Carnation property. Each hotel has implemented a sustainable water service; either serving filtered water instead of bottled water, or supplying sustainable glass bottles of still and sparkling.
All UK properties partner with ethical water supplier Belu which gives 100 per cent of its net profits to its charity partner, WaterAid, in a bid to help the 884 million people currently living without clean drinking water. In 2018, Red Carnation's support of Belu allowed WaterAid to transform over 2,000 lives through access to clean water.
5. Staff canteen cups and cutlery
The eradication of SUPs extends to each hotels' back-of-house operations too – all staff canteens are now free from plastic cups and cutlery.
6. Individual food portions
Butter and jam spread on freshly cooked toast, or fruit and muesli topped with yoghurt might be buffet breakfast staples for many, however the single portion tubs and packets contribute to wasteful plastic packaging. Breakfast items like cereals, yoghurts and spreads will now be purchased in larger quantities and served in glass bowls, ramekins and jars at the breakfast buffet.
7. Plastic pens
Although pens may be deemed a multiple use item, the Red Carnation Hotel branded pens available in guest rooms and public spaces are made from metal instead of plastic. The team at Ashford Castle in Ireland are now using pencils instead of pens for admin use.
8. Envelopes with plastic windows
Envelopes with plastic windows have been removed from operation at all reception desks and in central offices.
9. Pedal bin liners
Plastic bin liners are no longer used for individual bins in offices, bathrooms and communal staff areas.
10. Coasters
Coasters for bedside water glasses or drinks in the bar are now comprised of reusable materials such as cork and leather or recyclable paper.
11. Linen and towel delivery
All 17 properties have been working with individual laundry partners to ensure laundry is collected and delivered without the use of plastic packaging. For example, the towels, bed and restaurant linen at The Montague on the Gardens in London's Bloomsbury is now sent and delivered in cages and protected by re-usable fabric bags instead of plastic.
12. Toothbrushes
For those guests that leave their toothbrush at home, hotel teams will arrange for a toothbrush with a bamboo or wooden handle to be delivered to their room.
13. Guest dry cleaning bags
Guest laundry will be collected using individual reusable fabric laundry bags which are placed in their room, and laundered items will be returned without plastic packaging.
14. TV remote control
Sanitised remote controls are no longer placed in plastic bags, instead, a recycled paper wrap is now used to advise guests the remote in their room has been sanitised.
15. Piping Bags in Kitchens
The Executive Chef and kitchen teams at each hotel are now using reusable piping bags made from materials such as silicone. To perfect the intricate decorations on cakes, pastries and chocolates which delight guests, Ashford Castle's Pastry Chef Paula prefers to use reusable piping bags made from nylon.