L'Italie et Malte refusaient l'accostage de l'« Alan-Kurdi », navire de l'ONG allemande Sea-Eye, qui avait secouru 64 migrants le 3 avril au large des côtes libyennes.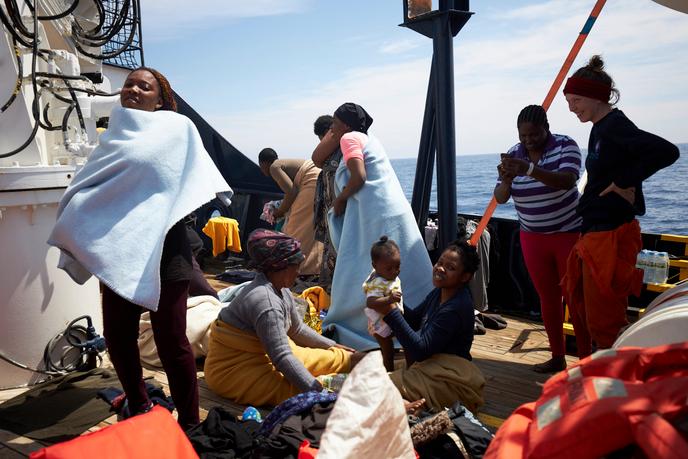 Les migrants bloqués depuis dix jours en mer sur l'Alan-Kurdi, navire de l'ONG allemande Sea-Eye, vont enfin pouvoir débarquer à Malte. Le premier ministre maltais, Joseph Muscat, a annoncé samedi 13 avril qu'un accord avait été trouvé pour les répartir entre l'Allemagne, la France, le Portugal et le Luxembourg.
« Aucun d'entre eux ne restera à Malte, qui ne peut pas porter ce fardeau tout seul », a précisé le chef du gouvernement sur Twitter.
All 64 migrants onboard #AlanKurdi will be disembarked and redistributed between #Germany, #France, #Portugal and… https://t.co/mFNABqTNeC
Mercredi 3 avril, Sea-Eye avait secouru 64 migrants, dont douze femmes et deux enfants de 1 et 6 ans, qui se trouvaient sur une embarcation de fortune au large de la Libye. Le navire Alan Kurdi (qui porte le nom d'un jeune Syrien mort en Turquie et devenu symbole du drame des réfugiés) avait d'abord tenté d'accoster à Lampedusa, mais le ministre italien de l'intérieur, Matteo Salvini, a refusé, renvoyant la responsabilité à l'Allemagne ou à la Libye. En Italie, la Ligue, formation d'extrême droite au pouvoir avec le Mouvement 5 étoiles, a fermé depuis juin 2018 tous ses ports aux ONG secourant les migrants.
Trois évacuations médicales
Le navire a ensuite mis le cap sur Malte, qui n'a pas accepté non plus le débarquement des migrants, hormis deux des femmes, dont une enceinte, qui ont été évacuées vers La Valette pour raisons médicales. L'Alan-Kurdi était donc condamné à naviguer autour de l'île, alors que la situation matérielle commençait à être compliquée à bord pour les 62 migrants restants et les 17 membres d'équipage, entassés dans un dortoir prévu pour une vingtaine de personnes, comme le montre un reportage d'Euronews. Un mécanicien du bateau a d'ailleurs été évacué vendredi pour raisons médicales.
La situation s'est débloquée vendredi, lorsque le ministre de l'intérieur français, Christophe Castaner, a accepté d'accueillir 20 migrants. Son homologue allemand a également proposé de prendre en charge 22 personnes. Le Luxembourg et le Portugal ont aussi offert leur aide. Le navire de Sea-Eye n'a toutefois pas été autorisé à entrer dans un port maltais. Les migrants à bord sont transférés à terre dans des embarcations maltaises.
Have something to say? Leave a comment: